Benjamin
This is not the family tree - but it is about one member. Benjamin was born in 1881 and died in France in 1917 on the first day of the Battle of Arras. The details here was once on its own, much earlier, site that I did.
Home Page
This new site is in memory of Benjamin, to his fellow townsmen, countrymen and others who were in or affected by the Great War. 
Initially it contained some information about Benjamin, for sharing by relatives who were interested in the family history. Now it has grown a little with additional detail and a few links to relevant WW1 sites. 
Thanks to all those who supplied items. 
Let those who come after see to it that his name be not forgotten.
About 
Benjamin was the youngest of the family, all born in Caithness.               
Margaret born 14.9.1857 Wick
Elizabeth born 14.8.1859 Wick
David born 14.6.1861 Wick
George born 13.9.1863 Wick
John born 29.1.1865 Wick died 1865 aged 3
William born 7.11.1865 Wick
Alexander born 9.12.1867 Bower died at 6 weeks
John born 31.12.1868 Bower
James born 1873 Bower
Alexander born 30.10.1878 Bower
Benjamin born 27.1.1881 Bower
Benjamin appears in the 1881 census as 2 months old at Bower.
In the 1891 census he is shown as 10 years old, still at Bower with the family.
By the 1901 census he was a flesher, residing in Wick and his parents were there as well. He possibly worked at his brother's shop, which was close by, but maybe not as he is shown as employed in own accord.
He married in 1902, and had five children. At some time he was a crofter, a carter and later was an insurance agent. He joined the Royal Defence Corps in 1915 as a volunteer, and with the Seaforth Highlanders he was posted to France in March 1917. He died on the first day of the battle of Arras, 9th April 1917 and is buried in the Highland Cemetery at Roclincourt, near Arras. One of the images shown is a sketch made on that fateful day, of the Seaforths in action.
Brief Documents
               The scroll.              Letter sent from the front line 15th April 1917. 
The letter shown above I thought would be better placed in the Seaforth Highlanders Museum at Fort George, Ardersier, Inverness, and they were very pleased to receive it. A larger copy is shown in Gallery6. although it is not any clearer.


This Bible was owned by Elizabeth Steven, the mother of Benjamin. Written inside is a note Presented to Ben  in the year of his marriage...... and then also a later note listing her children.
The Bible was in the possession of her great grandson, but was in a dilapidated state (shown in Gallery3) but has been restored to a much better state as shown here.
Elizabeth was born in 1835 and it was fairly common to receive a bible on one's 21st birthday, so possible from 1856.
Images
Benjamin and family.
His wife Helen and their children.

        Benjamin              Benjamin and Helen.

Wick places connected with Steven family.
Where Benjamin was in 1901 - Argyle Square.          Where the family was in 1917 - Henrietta Street.

The shop where Benjamin possibly worked, owned by his brother George.


Benjamin's Headstone
The inscription reads
267559 LANCE CPL
B. STEVEN
SEAFORTH HIGHLANDERS
9TH APRIL 1917


Roclincourt, Arras, France.
Four views of the Highland Cemetery.


Miscellaneous items and monuments.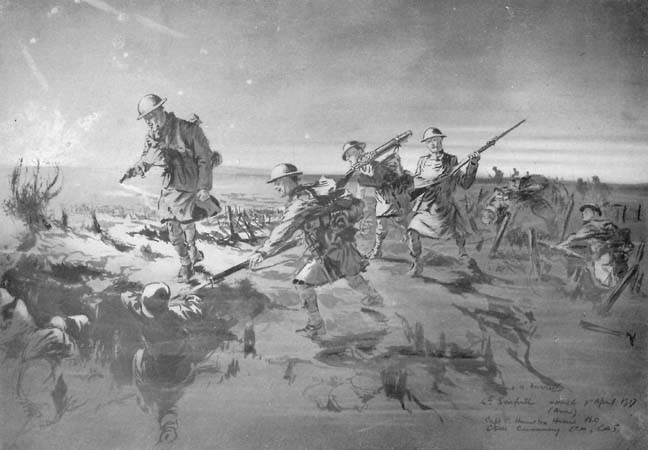 Sketch of Seaforth's in action 9th May 1917                                                   
The day that Benjamin died.
For a collection of similar sketches click on sketch or see Links page.
when you find the sketch which is plate34.jpg, delete this plate34.jpg to see all the sketches on the site.
This monument at Thiepval lists the names of the missing after the Battle of the Somme - 73,412 of them without a grave. The British monument.
Note the size by the person on the steps.
According to the records Benjamin was awarded the Victory and the British medals. Interesting that some documents refer to him as a Private and others as a Lance Corporal.
Victory medal.    British medal.

Arras WW1 Links
The links are now on the Links Page